Alison Jackson holt ersten WWT-Sieg bei der Simac Ladies Tour
Die mutige Fahrt von Alison Jackson (Liv Racing) brachte der Kanadierin ihren ersten WorldTourat-Sieg bei der Simac Ladies Tour Etappe 1. Jackson war Teil einer Dreier-Ausreißergruppe neben Maëlle Grossetête (FDJ Nouvelle-Aquitaine Futuroscope), die an diesem Tag Zweite wurde.
Lorena Wiebes (Team DSM) war die erste Finisherin aus dem Feld und wurde Dritte, vier Sekunden hinter Jackson. Die Führende Marianne Vos (Jumbo-Visma) wurde Vierte, aber Jackson übernahm dank der Bonussekunden im Ziel die Gesamtführung.
Jackson war der erste, der früh in der Phase angriff. Die ersten 25 km fuhr sie alleine, bis Grossetête und Nina Buysman (Parkhotel Valkenburg) nach 35 km in die Ausreißergruppe kamen. Jackson und Grossetête verloren Buysman mit ein paar verbleibenden Kilometern, als es so aussah, als würde sich das Peloton nähern.
Die Verfolgungsjagd aus dem Hauptfeld war ein und aus, wobei sich Team DSM und Canyon-SRAM an der Spitze abwechselten. Jumbo-Visma, das Team des Führenden, war erst auf den letzten Kilometern zu sehen. Bis dahin war es zu spät, die beiden noch rechtzeitig für ein Sprint-Finish nach vorne zu bringen.
Am Ende landete das Peloton vier Sekunden hinter den Ausreißern. Es war ein weiterer Fall von Ausreißererfolgen, was bei den Frauen oft passiert ist. Die ersten beiden Etappen der Ladies Tour of Norway wurden kürzlich von einer Solo-Ausreißerin gewonnen. Jackson gewann auch dieses Jahr das Punktetrikot bei der Ladies Tour of Norway.
---
Simac Damentour (2.WWT)
Zwolle → Hardenberg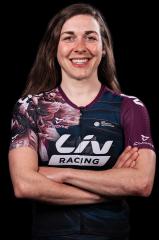 Source link