Alison Jackson voitti ensimmäisen WWT -voiton Simac Ladies Tourilla
Alison Jacksonin (Liv Racing) rohkea kyyti saavutti kanadalaiselle ensimmäisen WorldTourat-voitonsa Simac Ladies Tourin 1. vaiheessa. Jackson oli osa kolmen ratsastajan välimatkaa rinnalla päivän toiseksi sijoittuneen Maëlle Grossetêten (FDJ Nouvelle-Aquitaine Futuroscope) rinnalla.
Lorena Wiebes (Team DSM) oli ensimmäisenä maalissa, kun hän oli kolmas, neljä sekuntia Jacksonista jäljessä. Kilpailun johtaja Marianne Vos (Jumbo-Visma) sijoittui neljänneksi, mutta Jackson otti kokonaisjohtamisen maalisekuntien lisäsekuntien ansiosta.
Jackson hyökkäsi ensimmäisenä alkuvaiheessa. Hän ajoi ensimmäiset 25 km yksin, kunnes Grossetête ja Nina Buysman (Parkhotel Valkenburg) liittyivät erottuneeseen 35 km lavalle. Jackson ja Grossetête menettivät Buysmanin muutama kilometri jäljellä, kun näytti siltä, ​​että peloton oli sulkeutumassa.
Peloton-jahti oli päällä ja pois päältä, Team DSM ja Canyon-SRAM vuorotellen edessä. Kilpajohtajan tiimi Jumbo-Visma nähtiin vasta viimeisillä kilometreillä. Siihen mennessä oli liian myöhäistä tuoda kaksi edestä taaksepäin ajoissa sprinttiin.
Lopulta peloton päättyi neljä sekuntia pakenevien jälkeen. Se oli toinen tapaus murtautua menestykseen, mitä on tapahtunut usein naisten kilpailuissa. Ladies Tour of Norway -tapahtuman kaksi ensimmäistä vaihetta voitti yksin erottautunut ratsastaja. Jackson voitti tänäkin vuonna Ladies Tour of Norway -pistepaidan.
---
Simac Ladies Tour (2.WWT)
Zwolle → Hardenberg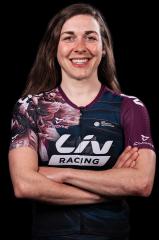 Source link